MVDACS - MarketVector Digital Asset Classification System
The digital assets market has expanded fast over the past several years, with new protocols and applications constantly being developed. Participants in the digital assets market are eager to comprehend its diverse use cases, allocate cash, and manage investments. As the asset class continues to expand and market volatility persists, the necessity for performance monitoring and risk management in digital asset markets increases. To accomplish this, market players require assistance traversing the universe of digital assets and categorizing these assets to better define their risk profile and comprehend their returns. 
The world has gone from a singular focus on Bitcoin to a much wider adoption of DeFi apps, distributed computing platforms, NFTs etc. As with the equity markets, categorization of sub asset groupings into sectors and more recently themes are important in the institutional adoptions of diverse asset classes.
What do we have to offer?
MarketVector Indexes created the MarketVector Digital Asset Classification System in 2020 in order to provide an efficient investment tool for capturing the breadth, depth, and progress of crypto sectors.
A three-tiered, hierarchical industry classification system underpins the category scheme.Cryptoassets are classified quantitatively and qualitatively. At the Industry level, each protocol is allocated a single classification based on its primary business activity. MarketVector considers the economic driver and end-user demand to be critical variables in establishing the primary business activity of a protocol.
However, market perception and technical changes are acknowledged as vital and relevant information for classification reasons and are considered during the monthly review process.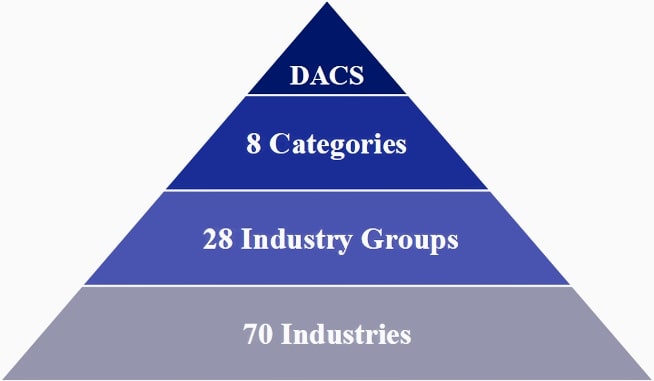 In what ways does our Taxonomy benefit investors?
Classifications can be useful for identifying market cycles and quickly assessing which sectors are outperforming. It enables investors to exploit those narrative plays end enhance the alpha potential of their portfolios. Our taxonomy helps to create sector-based and sector-rotation plans that are consistently specified at the level our clients specify. It also enables to compare and report on sector exposures versus peers or benchmarks.
How does it work?
On a monthly basis, we currently screen the Top 450 token by market cap. Whenever a token is larger than $ 250 Mio. In size, we do the deep dive and screen the protocol. We read the 3rd party research, look at the whitepaper, read the discord channel to identify the value driver and end user demand. We defined a 3 Tier system of 8 categories, 28 industry groups and 70 industries.
Pie Chart of the Digital Asset Taxonomy
MarketVector has five digital asset categories available
These broad category indexes capture the performance of coins with $250m market cap and $10m ADTV. In addition to the broad categories, MarketVector provides a Leaders Index for each Index category. The Leaders Indexes capture the performance of coins with $1bn market cap and $25m ADTV, and introduces additional screening requiring the coins to be traded on a major US exchange and supported by a reputable crypto custodian. In addition, the investable Leaders indexes include a 20% buffer for existing constituents so as to limit turnover.
MarketVector Category Whitepaper
Classification Framework for Digital Assets

Sorting out the crypto world.

The world has gone from a singular focus on Bitcoin to a much wider adoption of DeFi apps, distributed computing platforms, NFTs etc. As with the equity markets, categorization of sub asset groupings into sectors and more recently themes are important in the institutional adoptions of diverse asset classes. Classifications can be useful for identifying market cycles and quickly assessing which sectors are outperforming. It enables investors to exploit those narrative plays end enhance the alpha potential of their portfolios. MarketVector IndexesTM (´MarketVector´) has developed a classification scheme for digital assets and provides category indexes that allow users to measure, benchmark, and capture the performance and characteristics of targeted categories within the digital assets, making digital assets more digestible to traditional finance investors while giving crypto native funds additional benchmarking capabilities.

Download the Whitepaper
DeFi Decoded

Democratizing financial access and eliminating centralized intermediaries.

MarketVector IndexesTM ('MarketVector') has developed a classification scheme for digital assets and offers category indexes that enable users to measure, benchmark, and capture the performance and characteristics of targeted categories within digital assets, thereby making the ecosystem more digestible for traditional finance investors and providing crypto native funds with additional benchmarking capabilities. The following introduces the MarketVector category decentralized finance applications.

 Download the Whitepaper
Smart Contract Platforms

Understanding the different layers of blockchain protocols

MarketVector IndexesTM ('MarketVector') has developed a classification scheme for digital assets and provides category indexes that allow users to measure, benchmark, and capture the performance and characteristics of targeted categories within digital assets, making the ecosystem more digestible to traditional finance investors while giving crypto native funds additional benchmarking capabilities. This article focuses on smart contract platforms. According to the data provider Coingecko, there are over 140 different platforms . While each of these chains appear to be successful today, it's impossible to know which of them will eventually support the largest and most robust ecosystems or which will survive the competitive landscape. No single protocol is necessarily perfect for every application. Therefore, the future of smart contract chains will encompass many protocols that are popular today and some that have yet to be created. The MarketVectorTM Diversified Smart Contract Indexes enable investors to measure and access the broader smart contract platform market without worrying about picking any specific chain.

Download the Whitepaper
Powering the Decentralized Internet 

Why Infrastructure Applications are Critical to the Growth of Web3.

Decentralized software is only truly decentralized if the hardware that supports it is decentralized as well. In 2022, it became apparent that centralizing hardware can make decentralized software vulnerable to censorship. Decentralized file storage, wireless Internet and cloud computing are examples of infrastructure projects that are necessary for the growth of the new decentralized Internet, also known as Web3 . Scaling such hardware-intensive networks profitably is difficult due to the significant capital investment. These infrastructure protocols have minimal utility on their own, but when coupled, they function similarly to LEGO blocks, allowing a developer to construct a variety of potentially new and beneficial user-facing Web3 applications. For example, the development of Chainlink oracles enabled the development of lending and borrowing platforms such as AAVE and Compound, which rely on high-quality, real-world data regarding asset prices. Decentralized file storage, in particular, is a critical component in establishing a censorship-resistant, free Internet. In 2022, solutions such as Filecoin, IPFS and Arweave saw some interest.

Download the Whitepaper
Will We Ever Have CEX Again?

Exploring the benefits and drawbacks of centralized crypto exchanges.

Cryptocurrency has become a popular investment and trading option, with centralized crypto exchanges (CEXs) emerging as the go-to platform for individuals and institutions to buy, sell, and trade cryptocurrencies. These exchanges act as intermediaries, matching orders and facilitating transactions, but they are centrally controlled and maintained by a central authority or organization. In this paper, we will explore the value proposition of CEXs, including their convenience, liquidity, and support, as well as the risks associated with using these platforms. We will also discuss the emergence of exchange tokens and their potential impact on the industry. Initially, they were developed by crypto exchanges to raise funds from users and provide a more appealing "community ownership" model for investors. The most significant event impacting exchanges last year was without a doubt the collapse of FTX. This event has led to concerns about the safety of the industry and has dramatically influenced exchange outflows, volumes, and liquidity on almost all centralized exchanges (What Happened To Crypto Giant FTX? A Detailed Summary Of What We Actually Know So Far 2022).

Download the Whitepaper
The Metaverse and Beyond

Exploring the opportunities of the MarketVectorTM Media & Entertainment category

The media and entertainment industry are facing several challenges in the current digital landscape. From a lack of transparency in revenue split to high fees for content creators, the traditional industry models are struggling to adapt to the digital age. However, the rise of blockchain technology offers a new solution to these problems, providing opportunities for the media and entertainment industry to create, distribute and monetize content in new and innovative ways. By leveraging non-fungible tokens (NFTs) and decentralized platforms, the industry can establish more equitable economic conditions for creators and provide a more direct connection between creators and their audience. To better understand the potential of blockchain technology in the media and entertainment industry, it is important to first examine the current challenges facing the industry. In this whitepaper, we will delve into the problems facing the media and entertainment industry and explore how blockchain technology can be leveraged to overcome these challenges and create new opportunities.

Download the Whitepaper
Index
Last Close
Open
Last
Change
Change (1Y)
Range (1Y)

142.56

142.56

-

-

845.36%

10.12

-

464.91

81,839.34

81,839.34

-

-

771.95%

6,938.11

-

148,439.73

98.88

98.88

-

-

-

-

28.72

28.72

-

-

-

-

154.58

154.58

-

-

-

-

5.50

5.50

-

-

-

-
| IndexName | Symbol |
| --- | --- |
| MarketVector™ Smart Contract Price Index | MVSC |
| MarketVector™ Bitcoin Price Index | MVBTC |
| MarketVector™ Centralized Exchanges Price Index | MVCEX |
| MarketVector™ Decentralized Finance Price Index | MVDF |
| MarketVector™ Infrastructure Application Price Index | MVIAP |
| MarketVector™ Media & Entertainment Price Index | MVME |